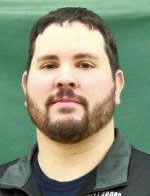 Position

Sports Information

Hometown

Wellsboro, PA

High School

Wellsboro

College

Penn College of Technology
Ed Weaver is in his 13th year of being the Sport Information Director and managing WellsboroAthletics.com and the Wellsboro Athletics family of websites. In addition to being Wellsboro's Sports Information Director, Ed also volunteers with the football team. Despite an eight-year layoff as a member of the Wellsboro Football coaching staff, Ed has remained active with the program as he helped take stats with John DeLeonardis from 2009-2012. At the start of the 2013 season Ed took over the role as the primary statistician for the team then later was the boys basketball team's stat keeper from 2015-2019.
Ed graduated from Wellsboro in 2004 and played football for all four years and was on the track and field team for two years. Ed played under former head cooach Chris Morral as a senior, playing both defensive and offensive tackle. That year he was selected as an honorable mention offensive tackle to the NTL All-Star Team. In 2001, Ed became one of three sophomore Varsity starters, playing linebacker. In his high school career, Ed accumulated three Varsity letters in football and two in track.
After graduating early from High School, Ed attended Pennsylvania College of Technology in Williamsport, PA and graduated with honors in December 2007 with a degree in Web and Applications Development. While in college, Ed began his football coaching career during the 2006 season and remained with the team until after the 2008 season, where he helped coach 1,000-yard running back Pat Driebelbies and season-leading tackler Aaron Moss.
After the 2008 season, Ed moved to Bellefonte, PA where he worked for ZedX, Inc. and then later Blackboard/Schoolwires in State College, PA. Ed returned back home to Wellsboro in August of 2014 to further help out the athletic teams, and also started working as the Sports Director for the Home Page Network. In April 2016, Ed quit his job at Blackboard/Schoolwires to start Circle W Sports, the platform that powers the Wellsboro Athletics family of websites, and help local teams better promote their programs and student-athletes.