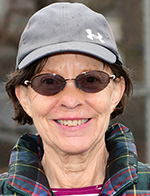 Position

Volunteer Assistant

Hometown

Elkhart, IN

High School

Elkhart Central

College

Purdue University
Coaching Bio
After six seasons as the boys head coach, Coach Hoffman returns to the team as a volunteer assistant. Coach Hoffman is a 1971 graduate of Elkhart Central High School where she played 3 years of varsity tennis. She and her doubles partner were finalists in the Indiana High School State Athletic Association, ISHAA, tournament her senior year.
After graduating from high school, Coach Hoffman attended Kenyon College where she played inter-collegiate women's lacrosse as a starting center, and tennis in singles and doubles. Upon transferring to Purdue University, she played varsity women's tennis in the Big Ten Conference for 3 years in singles and doubles. She and the team were undefeated in her final semester. After obtaining B.S and M.S. degrees in Civil Engineering, she continued to play tennis recreationally while pursuing her engineering career in Dayton, Ohio and Madison, WI. While in Madison she started playing squash in nationally-sanctioned United States Squash Racquets Association, USSRA, tournaments, obtaining national rankings in the open Women's C and B divisions, winning an Ohio Women's championship, and a national title in the Women's over 35 B division. Putting the racquets away to pursue her engineering career and family life, she picked up tennis again upon retiring from a systems engineering job with the U.S. Navy at Pax River, MD in 2011.
Coach Hoffman and her husband moved to Wellsboro in June 2014, and she promptly became director of the summer tennis program for Wellsboro Parks & Rec and a volunteer assistant coach for the girls' varsity tennis team at Wellsboro High School. Coach Hoffman is certified by the United States Professional Tennis Association, USPTA, as a Professional and is nationally ranked in senior 65 women's doubles by the United States Tennis Association, USTA.
Coach Hoffman resides with her husband, Paul, in Charleston Township. They have one son who attends law school in Brooklyn, NY.
Other Profiles