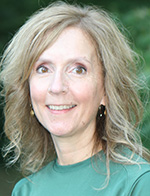 Position

Head Coach

Hometown

Jersey Shore

High School

Jersey Shore

College

Penn State University
Coaching Bio
Coach Hoose is in her third year as a member of the Hornets Cross Country staff. She is a graduate of Jersey Shore Area High School where she played basketball for three years. Coach Hoose was also the salutatorian of her graduating class of 1987.
After high school, Coach Hoose attended Penn State University earning a Bachelor of Science degree in Economics in 1991. Following a career in commercial banking and business accounting, Coach Hoose moved to Wellsboro with her family and served Trinity Lutheran School as a board member and financial coordinator for several years. While at Trinity, she introduced and directed a very successful fall jog-a-thon known as Laps for Learning, for its first seven years.
Coach Hoose began running several years ago after watching her children (ages 9 and 7 at the time) run their first trail race. It was a decision to be active with them instead of just cheering from the sidelines. She has since run numerous 5ks and trail runs in support of local charities and school organizations; and, completed her first half marathon in 2017 at the Wineglass in Corning.
Coach Hoose currently resides in Wellsboro with her husband, Hal, and two children, Aislinn and Ian.
Other Profiles