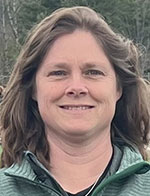 Position

Head Coach

Hometown

Wellsboro, PA

High School

Wellsboro

College

Susquehanna University
Coaching Bio
Coach Hoover is in her fifth year as the head girls track coach at Wellsboro and is in her 24th year of coaching track. Coach Hoover is a former graduate of the Wellsboro Area High School, where she competed in track and field and basketball for four years. She is a district champion in the shot put, the discus and the javelin, and competed at the state meet in Shippensburg all four years, and her junior and senior year, in all three throws.
After graduating from Wellsboro, Coach Hoover attended Susquehanna University for basketball, but also decided to compete in track and field at the last minute. During her tenure at Susquehanna, Coach Hoover placed at the Middle Atlantic Conference Championship meet all four years, placing in the top three in all three throws. She was a Conference Champion in the shot put and the javelin her senior year, and made the National Meet in the Javelin with a throw of over 136 feet, missing the required distance in the shot put by a quarter of an inch (39' 11.75).
At the National Meet, Coach Hoover finished fourth in the nation with a throw of 145-ft, 10 enabling her to become the only thrower from Susquehanna to ever reach that mark. She still holds the record there. The throw also earned her All-American status and entry into the Susquehanna Hall of Fame in 2002 (the youngest person male or female to earn that honor).
In 2006, Coach Hoover was inducted into the Tioga County Hall of Fame for track and field. She still holds the discus record for Wellsboro, with a throw of over 129-ft.
Coach Hoover currently teaches 12th grade English at the Wellsboro Area High School and resides in Wellsboro with her two sons, Casey and Evan.
View Coach Hoover's career statistics.
Other Profiles